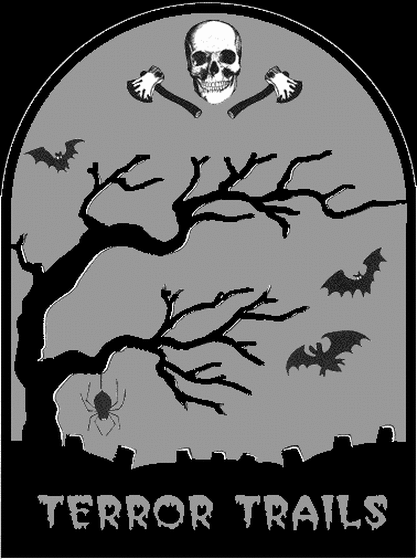 TERROR TRAILS & HOUSE OF TERROR
One location, two attractions, lots of zombies!
DATES & TIME:
Every FRIDAY & SATURDAY nights in OCTOBER till midnight
also open THURSDAY OCTOBER 31st Halloween night till 11PM

October 4,5,11,12,18,19,25,26,31
FRIDAY NIGHT
ADMISSION
:
Single ticket $9.00 Adults - $5.00 under 13
Combo ticket $16.00 Adults - $9.00 under 13
SATURDAY NIGHT ADMISSION:
Single ticket $10.00 Adults - $6.00 under 13
Combo ticket $18.00 Adults - $10.00 under 13
GENERAL & RAIN-OUT INFORMATION:
TXT: TerrorTrails TO: 31996
General information during weather and conditions suitable for opening.
Rain-out message for the day will be sent/updated at 4:00 PM to TXT subscribers.
Terror Trails is an outdoor event Please TXT if you are uncertain if weather would permit opening.
House and trail open and close together.
TXT: TerrorTrails TO: 31996
WHERE
:
Follow the sign at CR 1950 & HWY 154
ONE MILE SOUTH of the FM 515 & HWY 154 intersection
Search GOOGLE MAPS "Terror Trails, County Road 1960, Yantis, TX.
>>>
Click Here for Google Maps
<<<
CONCESSIONS
:
TRANSYLVANIAN PIZZA LAB

Pizza baked in a hickory wood fired oven. Delicious pizza, drinks and snacks!
Pizzas sold by the slice or whole. Take one home with you!

GLOW
Fun stuff to make you stand-out on a dark night. Buy them for your little

brother so the zombies will get him first!
WORK AT TERROR TRAILS:
If you get a thrill out of making someone scream... Terror Trails wants YOU!
Got questions about working at Terror Trails? Come to the Boo Crew orientation October 2nd (Wednesday) or the 3rd (Thursday). Meet at the main gate at 6:30pm. You need only to attend one
orientation
either Wednesday or Thursday and will last about an hour. All your questions will be answered about times, pay, expectations, safety, etc. If you have worked Terror Trails before this meeting is optional. For previous crew members, just show-up Friday at 5:30. Open to anyone ages 16 to 99. Families welcome!
If you missed orientation and want to be part of the Boo Crew... Show up at the main gate at 5:30 on nights we are open.
One last thing... New crew attending orientation gets bonus points! ??? I'll explain the points at the meeting.
If you have any questions...
Contact Gary at
reggae@peoplescom.net
TXT: BooCrew TO: 31996
MOON PHASES for 2013 Season: